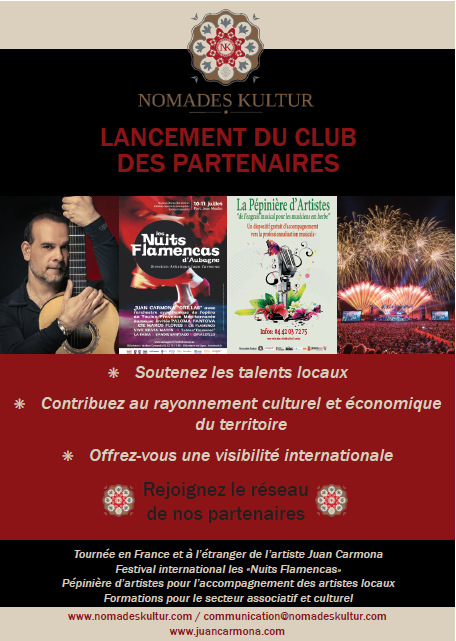 Why taking part ?
After 15 years of experience, Nomades Kultur has aquire maturity and legitimacy to launch its Partner's Club. Support the association Nomades Kultur is taking part in a eco-cultural and eco-citizen approach. It is supporting a structure that galvanize a whole territory (Fête de la musiqued'Aubagne) and makes it glow («Nuits Flamencas» International Festival, Juan Carmona) meanwhile encouraging artistic local initiatives(Pépinièred'Artistes) .
Nomades Kultur whishes to bring closer together culture and the world of business
15 years of experience in France and internationally
More thant 800 concerts worldwide
Strongrelational, institutional and artisticnetwork
Nomades Kultur with a « K  », a different vision of the Culture
Management of the international artist Juan Carmona
The Nomades spirit, perpetually in mouvement searching for new talents
Nomades Kultur diversifies its activities to create a truely cultural offering :
* Organization of concert tours of french and foreign artists & concert production
* Organization of the festival  international « les Nuits Flamencas » in the Region of Provence Alpes Côte d'Azur : Aubagne (13), Cannes (03), Châteauvallon (83)
* Funder of Pépinière d'Artistes: a contest providing a full year artistic support/accompaniement
* Workshops  : support of the association to develop their projects
Join us
Offer yourself a national and international visibility by joining the Partner's Club to benifit countless advantages for your clients, collaborators, suppliers, etc.